Women's rugby pioneer, flanker, Tiger-tough, Wallaroo No.7, dual-code star…that's only the start of the tags you can apply to Selena Worsley. 
When the call was made to honour the first woman in the Queensland Rugby Union's Hall of Fame this year, there was unanimous approval. How could it be anyone else when you soak in her achievements, her drive, her longevity and how she has improved the path for female players who have followed her. 
Before Xena: Warrior Princess was a huge TV hit, "Selena: Warrior Princess" was chopping down far bigger rivals and causing the mayhem of all the best openside flankers. 
"Follow the ball and smash people. That's how the game appeared on my first training night and I did that for the next 16 years," Worsley said. 
"Noted funster" and "crowd urger in the Tiger suit at the 2008 grand final" probably weren't QRU categories for Hall of Fame selection but they too are worthy tags. 
With the fun of Ladies' Day upon us at Bottomley Park, it's a perfect time to celebrate the greatest female player to wear the Tigers' jersey. 
At just 19, Worsley played in the very first Wallaroos Test against New Zealand's Black Ferns in 1994, the same season a women's competition was created in Brisbane. 
Her initial seasons were with Souths but she was a central figure in a great decade for women's rugby at Easts from 1999.
"I absolutely had the best time of my life at Easts. The club embraced the women's game from day dot. It was never contrived," Worsley said. 

"That was extremely important because some clubs weren't so supportive of the women's game. It was as if the novelty had worn off for them. 

"That was never the case at Easts. We had a really fun core of players in my time with the Tigers. No one was overly precious and we were all really involved in the club. 

"I'd get dressed up in the Tiger mascot outfit on a Saturday. That was fine until one day after a late night I ran along the sideline in the suit and accidentally ran over a touch judge. 

"I was benched to sit in the ute where the cartons of beer were being raffled. 

"The boys and the girls would often party in one big group after games. We enjoyed each other's company. 

"Rugby gave me a community and I've always enjoyed that." 
She won three premierships in 2002, 2005 and 2008 while building a record-setting career of 34 games for Queensland and 25 Tests for the Wallaroos.
The women at Easts knew how to enjoy themselves. After one premiership triumph, the club let the premiers sleep overnight in swags downstairs. It literally was a cash bar all night. 
Easts regulars like Peta O'Keeffe, a three-time premiership hooker, Mel Dark, flyhalf Ari Lambert and prop Marnie O'Rourke were ever-present in that era. Wallaroo Bronwyn Laidlaw and Jenny Beard shared in the spoils too. 
More than that, they earned respect that they did the hard yards at training like the blokes and contributed just as zealously to Easts on and off the field. 
"Silly Sundays" to end the season were never dull like the time the girls took it upon themselves to "plaster of paris" a willing group of male players from the waist down during a drinking session at the club. In effect, budgie smugglers made of plaster. 
"It was a fun idea even when the plaster of paris hardenened up, was too tight, caused chafe or started to dissolve," O'Keeffe said with a laugh.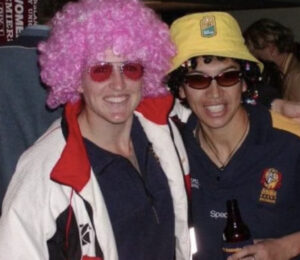 Worsley led the Wallaroos to the Rugby World Cups in Spain (2002) and Canada (2006) as captain after her first World Cup campaign in The Netherlands (1998). 
Being a prominent performer in the team that won the World Cup Sevens in Dubai in 2009 was the greatest achievement by an Australian women's rugby team to that point in history. 
As always, the baton change in sport is vital. Worsley and Cheyenne Campbell first coaxed a teenage Shannon Parry to try rugby at Easts in 2007. Flanker Parry is the Wallaroos skipper and eyeing her fourth World Cup this year. 
"Selena had a real presence. The guys at Easts knew how hard she trained, how tough she was and there was an instant respect," O'Keeffe said. 
"On one occasion, I recall she asked to train with the Colts as part of sharpening her game. They worked out pretty quickly she was serious…one of the boys was split on the eyebrow and Selena was split herself." 
That passion and drive has always been within Worsley. In 2018, the mum of two chose Wests to play a final season at 43. She was there for the very first game of women's rugby in 1994 and wanted to complete an astonishing cycle by playing in the 25th season in Brisbane.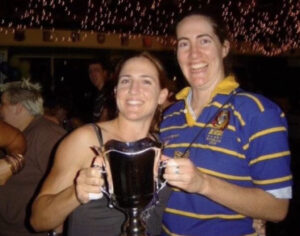 There are girls in the current Easts women's team with country origins just like Worsley. 
She played backyard footy in Biggenden, west of Bundaberg and a lunchtime version called "Sludge" with the boys when boarding at Downlands College. 
Sister Jacqueline was at the school in the same year as future Wallabies Tim Horan, Garrick Morgan and Brett Robinson. Rugby radiated a real passion and appeal around her in her formative teenage years when the 1991 World Cup was won. 
Along the rugby road, she found time to detour into a debut for the Queensland rugby league team and even a season with gridiron's Daytona Beach Barracudas in the US. 
Worsley held a worthy place beside Jules Guerassimoff, Peter Slattery, the late Bob Templeton, the late Stan Pilecki and the late Bill McLean when the 2022 Hall of Fame inductees were unveiled. 
She became a little emotional on stage at the Hall of Fame ceremony in May in front of MC Greg Martin, the former Wallaby who is rarely lost for words. 
In front of 700 people, she produced the line of the entire Reds Long Lunch.
"I'm sure I'm not the first woman to cry in front of you Marto," Worsley said. 
Selena Worsley will always be a one-off Tiger.