Former Wallaby Peter McLean jumped at the chance to present the jerseys to Easts' first grade side before the match at St Lucia last weekend.
It takes a lot to get "Spider" off the mountain these days but the champion lock drove down from Toowoomba just to be part of the ceremony.
The Tigers have always meant that much to the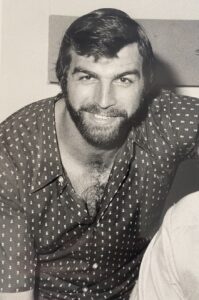 68-year-old former publican who played 16 Tests when he was the club's talismanic forward figure of the late 1970s and early '80s.
He was a packmate of a young backrow whirlwind named Sean Mowen so it was an easy step to accept the jersey invitation from son and coach Ben Mowen.
McLean helped put Easts on the map. While fellow Tigers like Paul Mooney and Bruce Cooke played for Queensland before him, he was the first to have a career with longevity.
He played more than 80 times for Queensland over nine seasons (1976-84), including the historic 9-3 win over the 1980 All Blacks.
The lean, dark-bearded figure excelled in one of the best Queensland packs in history and was also the reason Easts had to be shown respect for a decade.
The former Easts captain owes his famous nickname as "Spider" to his determination to make a mark as a young lock at Bottomley Park.
His story is not unlike many young Tigers from the club's unfashionable years in the 1960s and 1970s when players had to fight extra hard to be noticed by the selectors of representative teams.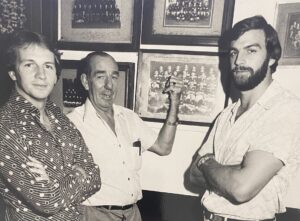 He was a skilful, long limbed, step-forward type, even at just 22, when he lined up against GPS and Wallabies lock David Hillhouse early in 1976.
"Hillhouse was just back from the Wallabies tour of Great Britain and Ireland. I figured if I wanted to make a mark I needed to stand up to him when we played GPS," McLean recalled.
He must have gone OK. When asked how he went against young McLean, Hillhouse told some of his State teammates "he was all over me like a spider" in the lineouts.
He also quickly picked up an old trick. No one selects 95kg locks so McLean always made sure he fudged his weight to at least 100kg for the match program. He added a little height too so he was around 1.95m rather than shorter.
Former Wallabies teammate Bill Ross has dined out for years on this apocryphal McLean story from preparations before a Queensland match against a physically imposing pack.
"Spider had shoulders like a Milk Arrowroot biscuit. Before one Queensland game, (skipper) Mark Loane said; 'Spider, would you mind getting changed in another dressing room…for team morale."
McLean went to school at Brisbane State High but his path to a regular role at Easts was circuitous.
"Straight out of school, I went to Gatton Agricultural College (to study animal husbandry). I played up there, got my first taste at Easts as well, played one season at Souths in the juniors (when Easts weren't fielding a team in that age group) and played my first open grade footy in Goondiwindi," McLean recalled.
His club in Brisbane was clearly established. Father Bill, the former Wallabies captain, had shifted the family from the Gold Coast to Brisbane in 1963 to become publican at the Clarence Corner Hotel at Woolloongabba. The pub became a regular watering hole for the Tigers where they conducted fundraising raffles.
"Dad went down to Easts to coach so I don't think it was a choice," McLean said with his deep chuckle.

"When I started back at Easts, that's where I stayed. What made Easts for me was the camaraderie and the feeling around the club. It was a good social club with lots of good fellas.

"I started at Bottomley Park when we only had a rickety old shed for a clubhouse. Every winter, a few timbers seemed to go missing for firewood.

"You had to stand up if you wanted to make it as a young fella. It was harden up or ship out because you'd be playing club games against guys like Jules Guerassimoff at the end of his career or Queensland players and Wallabies of the time.

"We used to be easybeats. To see the progress of the club over the past 25 years is something to be proud of."
As an unscarred 21-year-old, McLean played in the first grade pack of 1975 when the likes of Anton Toia, Paul Persijn, Hugh Mackay, Terry Hartnett and Lloyd Austin were packmates.
"The club's results improved in the early '80s and we made the 1984 grand final. I'd like to think we were at the start of some real progress for the club and got things rolling," McLean said.

"We were ordinary blokes moulded into some very good teams."

Peter McLean in an Easts' team list from 1977
While matches against Brothers and University might have been the measuring stick, few days were tougher than a Saturday afternoon trip to play Redcliffe, with their fearsome Fijian contingent, at Dalton Park.
"I remember pulling rank one day on Nigel Holt when he was still a young lock and telling him he'd be the one marking Petero Civoniceva (Snr) in the lineout at Redcliffe," McLean said.

"One of the first lineouts broke up and 'Holty' was lying on the ground. He just said 'I don't know where it came but geez it hurts'. He had to go off.

"A few lineouts later, I'm competing with Petero and when he comes down his elbow hits me on the top of the head. My back felt like someone was playing the xylophone with it.

"I look across and Petero is on the ground with a cracked elbow and has to go off.

"I trotted over to young Holty and said 'That's how it's done buddy'."
The 1984 season was a high point of that period. Bulldozing winger Dean Roberts (18) topped the competition's try list and backrowers Shaun Hourigan (nine) and Danny McHugh (eight) gathered plenty as well. Super boot Brett Scott tallied 208 points.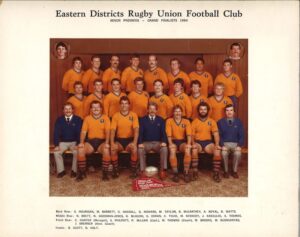 The Tigers knocked off Brothers three times that year but not when it mattered most in the grand final. The premiership decider was lost 18-3 and McLean headed into retirement at 30.
"I really wanted to play that last season for Easts after I'd finished with rep footy. For years, you'd come back to club rugby and someone would always get dropped to fit you in which seemed unfair," McLean said.
McLean featured in some of the most memorable Wallabies' victories of that period. He played in the 30-16 upset of the All Blacks at Eden Park in 1978 when Greg Cornelsen scored his four tries.
In 1979, he was part of a huge pack performance when coach Dave Brockhoff's Wallabies stunned the All Blacks 12-6 at the SCG to win the Bledisloe Cup for the first time in 30 years.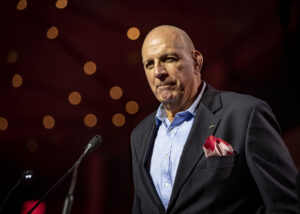 A year later, he was back from injury for the decider in a three-Test series against the Kiwis. Again, he savoured the sweet taste of success, 26-10, to defend the Cup.
"It was a long time between drinks, 30 years, with the Bledisloe Cup so that 1979 win stands out. We went off on a victory lap with the coach and the trophy. That's a great memory and there's a framed photo somewhere in my house," he said.
When the new McLean Stand is opened at Ballymore next year, it will honour the most renowned family dynasty in Queensland rugby.
Peter, father Bill and grandfather Doug Snr played for the Wallabies. Peter's uncle Doug Jnr was a Wallaby while another uncle, Jack, was selected on the 1946 Wallabies tour of New Zealand without playing a Test. Peter's cousins Paul and Jeff also excelled as Wallabies.