MEET NEW EASTS GM NIGEL ROY…A PASSION FOR CLUB SPIRIT, COMMUNITY AND A GOOD REVEAL
When Nigel Roy took on the new role as Easts General Manager, there was something hugely reassuring about the first faces he saw around Bottomley Park.
Ben Mowen was on the go as Premier Grade coach and the father of eager Tiger cubs. Matt Brandon was in charge of seconds. Lachlan Walker was a club sponsor with son Nash, 9, running around in the Under-10s and in a school holidays program.
Roy instantly recognised the DNA of all good footy clubs and why playing two seasons as a Tiger in 2005-06 had left such a positive stamp after a long career in rugby league.
Those three club stalwarts are still involved, long after Roy played with them more than 15 years ago. 
"When we play sport, it's not just the time on the field as a player. You can do your part in that cradle-to-the-grave culture in clubs," Roy said.

"You might start as the youngster on the sidelines when a sibling is playing. You get your own chance with the fun of juniors. Hopefully, you progress to Colts and seniors. You want to be giving parents a good experience too. Down the track, there's coaching, managing a team, a sponsor role or volunteering in some way.

"Your club is where you feel comfortable, you chat, you want to be involved. 

"I've got to say it made for a helpful transition at Easts this year being able to pick up connections with good people I already knew. The clubhouse is still standing as I left it, the familiar photos of past players are on the walls and the rafters are still holding strong."
Mowen was just a stripling of 20 in 2005 when Roy arrived at Easts as a seasoned professional from more than 250 games in the NRL and with the London Broncos.
"I remember wondering who this big fella was who arrived to play in the centres. I was doing everything to put a bit of meat on the body and here was this complete specimen in his 30s," Mowen said.

"Nigel proved himself an outstanding guy. He just wanted to play some rugby, build a social network in the area and dive into the cultural side of the club."
Mowen remembered Roy's entrepreneurial skills sidestepped into a player auction at an early Ladies' Day function at Bottomley Park in 2005.
"It was early days so pretty much there were only wives, mums, girlfriends and the women's team in the audience. I think someone paid $10 for me to be beer servant for the day but the women's team got together $150 for Nigel with his shirt off," Mowen said with a laugh.
Roy recalled why a stint in amateur rugby appealed after more than a decade playing with the North Sydney Bears, Northern Eagles, Illawarra Steelers and the London Broncos.
"After finishing with the London Broncos, I moved into a place at Norman Park just across the railway tracks from Bottomley. It was a no-brainer to turn up at Easts," Roy said.

"It was great to be part of the professional environment (in league). The openness and welcome really struck me when I arrived at Easts. It was all about supporting each other and enjoying the game. I paid my senior registration fee like

everybody else."
It certainly helped get everyone's attention when Roy came off the bench and dashed over from halfway with his first touch of the ball in second grade. He was a top grader soon enough.
"I played most of my league with the North Sydney Bears. Stalwarts were the glue keeping the club together," Roy said.

"It's underestimated at times by players just how important those figures are in keeping the club ticking over. 

"It's the same at Easts where the club is also such a strong part of the local community."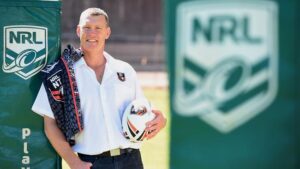 Roy's seven-year stint in Darwin as Northern Territory Rugby League boss was an eye-opener. League and rugby shared the same fence between their fields and operated with "a sense of support and co-operation."
"Whatever your code, playing sport is about bringing people together," Roy added.

"I really feel rugby is a great game for girls and the Tigers have created a positive environment there."
Roy, 49, is grateful to be inheriting the role after the strong job done off the field by predecessor Michael Lucas.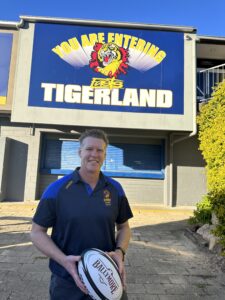 "Great work has been done by the previous administration. There are concrete aspirations for the club," Roy said.

"The 2032 Brisbane Olympics create a once-in-a-lifetime opportunity and Easts want to be a part of that legacy. We are one of the closest recreation facilities to the Olympic stadium and we will be in a position to take advantage with two high-quality fields and a masterplan for Bottomley Park."
When Roy was told he had the General Manager's job he planned an orchestrated "reveal" for his wife Natasha and their four kids. He must be watching too many reality shows.
"I went to the cupboard and dug around for an old Easts jersey. The family was in another room and I walked in with a coat over the top," Roy said with a smile.

"'I've got a big announcement', I said. I revealed the Tigers jersey and everyone was smiling. Everyone's happy."