Easts Tigers 2023 Griffith University Scholarship
Easts Rugby Union works closely with education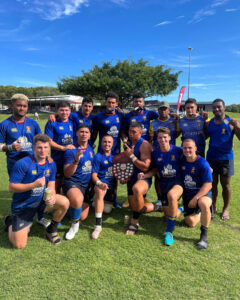 providers in supporting the next generation of talent coming through university. In achieving this, Easts Rugby wish to provide meaningful opportunities for players in pursuing tertiary education.
Easts Rugby sees great alignment in the purpose of their organisations and their aspirations to positively impact the lives of Australians through the vehicle of sport.
To be eligible, you must:
be an Australian Citizen
be full-time enrolled, or eligible for full-time admission, as a Griffith University Commonwealth supported student in Trimester 1 2023 (commencing* and continuing students)
have a GPA of 4 or above if a current/continuing student
be an Easts Rugby Union player
*Non-school leavers are eligible to apply with an ATAR 62.55 or above (equivalent OP 15, IB 24 or above) and must be eligible for and accepted into a degree program at Griffith University commencing in T1 2023.
Value
Maximum value is $5,000, paid in two instalments over a maximum period of one
year. Instalments of $2,500 are payable for each full-time enrolled trimester up to the maximum value of the scholarship.
Payment
Payments are made up to six weeks after the census date subject to the recipient satisfying the scholarship terms and conditions.
Statements
To give yourself the best chance, we recommend you complete the personal statement, all statements you complete will be considered.
Personal statement: In 500 words or less, detail your career goals in your chosen sport.
Supporting documentation:

Other: If your tertiary education history was NOT completed at Griffith University, you must upload a copy of your transcript.

Please upload the following formats only: PDF, Word, jpeg or Excel. We cannot guarantee other formats will be accepted.
Shortlist information
Shortlisted applicants may be required to attend an interview with the scholarship selection panel.
Selection will be based on the academic standing of the applicant and the likelihood of success in the chosen program with preference being given to:
two commencing male athletes who are Easts Rugby Union players
one commencing female athlete who is an Easts Rugby Union Rugby 7s player
one commencing or continuing female athlete who is an Easts Rugby Union Rugby 7s or 15s player.
Click here to apply!