At 94-years-old, Glynn Gauld still has vivid memories of playing at the old  Bottomley Park where pieces of glass and tin would rise from the landfill it was  built on.  
Gauld is one of the oldest living Tigers. He started playing with Easts as an  enthusiastic young fullback in 1950 when the club's first jersey was gold with a  red-and-blue "V". 
He was there when the Tigers enjoyed their first humble clubhouse, the "Old  Green Shed", which was built on what was then known as National Park. 
"Where we played was on an old garbage tip so the ground was pretty rough.  Time to time, rubbish would come to the surface. You'd just put the bits of glass  and tin to one side," Gauld recounted. 
The late Paul Mooney, Easts' first Wallaby, even remembered that the chassis of  an old utility and a four-poster bed had shown through close to the sideline after  the grass had worn thin in the earlier 1949 season. 
In 1997's Tiger Tales: 50th Jubilee Edition, Mooney further explained that the  council had compressed a sea of black ash over the rubbish tip, added topsoil and  grass and crudely created Easts No.1 oval. 
"A clubhouse? No. We had a shed but we were lucky to have a shed I suppose,"  Gauld said. 

"It was crude and rude in there and we had plenty of laughs.  

"It had water on but it was a cold shower in those early days before we got the  hot water system." 
Ever resourceful, the Tigers of the early 1950s raised money through selling raffles  and "doubles" and beers from the keg. 
"We were fortunate to have a good relationship with (publican) Jack McGuire at  his hotel on Stanley Street (in South Brisbane). He'd give us a keg at the right price. It was illegal I think but we'd take it back to the shed after home games, tap  it and we'd sell glasses of beer," Gauld recalled fondly. 
End-of-year functions supported the publican like the smiling, happy group of  players and officials in the early 1950s group photo with this story.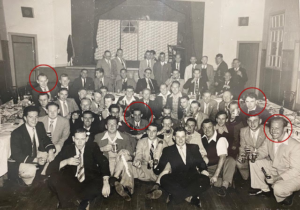 In 1955, McGuire helped out too when the club staged "a monster cabaret  evening at Manhattan Gardens with dancing until midnight, ample refreshments  and an entertaining floor show." It was midweek, in season, of course. 
The location was the old Hotel Manhattan before it became the Woolloongabba  Hotel.  
Gauld was a milko for much of his working life, delivering milk in suburbs around  Grange where he still lives. He worked in air freight at the old Ansett too. 
He played in the B grade side which made the 1950 semi-finals and he'll never  forget the man he followed into A grade at fullback. 
"Eric Henzell…he always played without football boots, only in a pair of socks. He  must have had tough old feet," Gauld said. 

"I think it was because of him they brought in a rule that you had to wear boots,  mainly for safety reasons. 

"There were no studs in those days. There were leather ones but once they were  worn the nails would show through. It could be dangerous to be trodden on."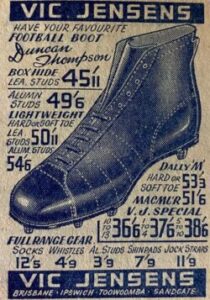 Gauld played in an era where the great Des Connor played halfback for Brothers,  the uncompromising Neil "Tiny" Betts and Nev Cottrell were Wallabies in the formidable Souths front-row, John O'Neill was a classy utility back for University  and red-haired flyer Garth Jones was scoring tries for GPS.
Gauld's teammates at Easts included Keith "Horse" Blake, George Pavelieff, Bruce  "Brick" Bradford and brother-in-law Mooney, who was Easts' sole Wallaby of the  1950s at hooker for two Tests against Fiji in 1954.  
The early '50s were formative years for the young club. The club won five of 13  games in 1955 to finish sixth of seven teams. The highlight was skipper Wilson  leading the first-ever win over the powerful University club, 8-6.
"We did beat each club at least once in my time just not in the same year," Gauld  said with a smile. 

"We were underdogs. We might not have won many games but there were no  bad eggs at the club. 

"Everyone pulled their weight on fundraising or on working bees like when one of  the players in the truck business brought in some soil and we properly top  dressed the field." 
Gauld boarded a passenger liner to England with Tigers' teammate Wilson in 1955  to see the world. They both ended up playing games for London club Saracens. 
When Gauld returned he took up refereeing and also devoted four years to  coaching the first grade side at Wests (1962-65) where Mooney was, by now,  coaching the club's strong Under-19s. 
Gauld was nearly 70 when the Tigers made the 1997 grand final at Ballymore but  there was no way he was going to miss it.  
"Certainly, it was a good day and a very good win…it was a red-letter day for the  club," Gauld recalled of the Tigers' first premiership. 

"Easts has always been a friendly club, everyone for the club. 

"Sometimes you get people 'ooh, I'm going to go to a stronger club' but, no,  everyone stuck by Easts. That's a good club."