The mental health message in rugby that the Rick Tyrrell Cup has done such a worthy job of advancing is helping lives every day. 
The eighth edition of this annual match between Easts and Sunnybank will be played at Oldmac Oval on Saturday. 
That the Rick Tyrrell Cup holds as much or more meaning now as it did when launched with heavy hearts in 2015 is a testament to the prop, friend and family man it honours. 
For those too young to remember, Tyrrell was the popular figure who started in the juniors and grades at Sunnybank. He rose to be a front-row rock in Easts' 1997 and 1999 premiership sides and won selection for Queensland.
All too young, at 39, he passed away due to his undiagnosed mental illness. Even close friends had no idea what he was going through until it was too late.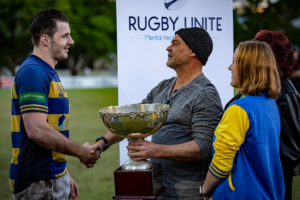 The power of the Rick Tyrrell Cup isn't just to raise awareness of mental health on one day a year but every day of the year. 
The Sock Swap that both Premier Grade teams will embrace again on Saturday is a more recent initiative
 that has evolved with the Cup clash. 
In a show of support that we must tackle mental health issues together, the Tigers and Dragons will play the full game in the opposition team's socks. 
It is a poignant prod to think of what it might be like to walk in the shoes of others. 
"If the players of both sides just stop and think what it means for 30 seconds when they are pulling on a swapped sock, that's good," said Michael Chettle. 

"We know it's a conversation starter amongst the crowd and talking about mental health is where positive things start."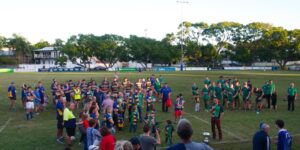 Chettle, Darren Gaffney, Alex Corones and Damon Rielly are all former teammates and friends of Tyrrell from both his Easts and Sunnybank days. Their sheer willpower to commemorate their mate while doing something concrete to establish mental hea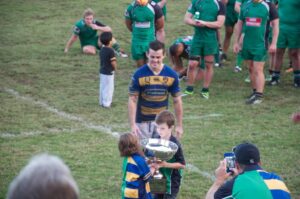 lth first aid for rugby players has been inspiring. 
The RUGBY UNITE initiative they set up was supported by the
Queensland Rugby Union who have taken it to the next level by rolling out the In Touch Mental Health Program. 
More than 100 rugby clubs affiliated with the QRU now have that support just a phone call away because of the partnership with the White Cloud Foundation and its Tele-Mental Health Service (07 31553456). 
At no cost, a team of social workers, counsellors, psychologists, dieticians, exercise physiologists and other mental health clinicians are available to help those with symptoms of depression and anxiety. 
"The scary part for us, even as good friends, was not knowing Rick was unwell. He was battling demons," Chettle said. 

"We didn't see it. We didn't identify things. It was actually too late to help when it became clear. 

"We got the Rick Tyrrell Cup together to honour him. To help people in rugby talk about any mental health issue they have will be his legacy. 

"It's something that will keep going. Mental health is an issue that is never going away. 

"After the very first Cup game in 2015 we received a call from the mum of a player. Just making a difference like that is important." 
Sunnybank coach Sione Fukofuka applauded the ongoing profile for the mental health message. 
"I know boys at both clubs who have struggled in that area. The initiative is definitely supported. I've coached and played at Easts and Sunnybank. I know it is something powerful that the clubs support together," he said. 

White Cloud Foundation driving force Jim Kearney stressed the In Touch Mental Health Program message. 

"The Tele-Mental Health Service is only a phone call away for anyone in the rugby community. I mean players, brothers and sisters, parents, volunteers, referees, the meat tray seller," Kearney said. 

"I can say we have consultations every hour of every day."