Mackenna Spooner may be the daughter of a Wallaby but she's found her rugby home amongst Tigers.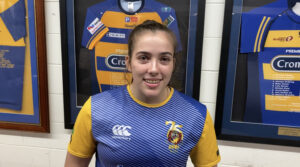 The developing winger is relishing being a part of Easts' formidable women's squad and the roll they find themselves on.
After dropping the opening two games of the season, the premiers have won six games in a row.
That includes a thumping 73-5 victory over Brothers which produced 13 tries and hat-tricks for forwards Isah Soloai and Rosie Ebbage.
More importantly, the Tigers have shown their resilience to win in two tight finishes over Bond University (33-26) and Sunnybank (24-22).
Mackenna, 18, started on the wing against Sunnybank as a sign of the progress she is making as one of the youngest in the squad.
Like so many other players in women's teams across Brisbane, she has come to the game from another sport.
She was on the elite pathway as a diver after seven years as a gymnast. She was more accustomed to a forward two-and-a-half somersault with pike off the 3m springboard than the finer points of backline play when she started at Easts last year but that's changing fast.
"I've been down at the club since my brothers Darcy and Flynn were playing cubs at around six-years-old. I always enjoyed watching and playing touch so as soon as the opportunity for a girls' team came up I hopped in," Mackenna said.

"The culture around rugby at Easts is really cool. I really enjoy that and learning to work as a team because diving was a very individual sport.

"Being one of the young ones, it's been good to get help in the game from some of the experienced girls.

"I have been able to bring across some strength and flexibility from diving and gymnastics so that does help."
Mackenna is the daughter of Nathan Spooner, whose superb season for the Queensland Reds in 1999 earned him two Tests against Ireland the same year.
Spooner co-coaches a junior team and is now the Junior Rugby Director at Easts where two other children, Abbi, 16, and Flynn, 12, also play.
Flynn Spooner (second from left) and sister Abbi (third from right)…Easts juniors supporting Australia's winning bid for the 2027 and 2029 Rugby World Cups

"When I was younger, I'd google a few images of dad back when he was playing. He was more hairy then…his head is so shiny now," Mackenna said with a smile.

"His rugby career is pretty cool. All his Wallabies stuff is with family in Sydney but there have been some Honda Heat shirts (from his seasons in Japan) to grab at home.

"He taught me the basics of how to tackle and kick."
While still in Year 12 at San Sisto College, Mackenna was on the bench for Easts' grand final triumph last year. The post-match celebrations were an eye-opener.

"The bus ride was wild on the way back to the club from the grand final. I've turned 18 since then so being able to join in on Mad Monday is a goal," she said.
For Spooner senior, he's seeing the joy for the game he had as a teenager.
"Mackenna loves it. She's found her tribe down here at Easts where you can enjoy the social and club side of things," he said.

"The thing I like about the set-up at the Tigers is that it is still very family orientated and that atmosphere is always there even with more than 1000 junior members.

"Yes, we want to win but before that it's really based around participation and everyone having their time on the field."
Spooner said the positive moves to identify the right brand of rugby for Easts juniors was a positive step that tapped the knowledge of senior coaches.
"We want to create a brand of rugby that Easts are known for. Also, we want the whole experience at the club to be enjoyable so young men and women want to continue on in Colts or the grades," Spooner said.

"We want juniors to be able to play a bit off the cuff, not positioned in pods, and learn to react to the cues of a game.
"We introduce safe contact and tackle technique. That's introducing shoulder contact with walk-through 'tackles' to prepare for Under-8s.

"Mobility and flexibility, with a lot of stretching, is advantageous to all players."
Women's coach Gary Wilson said the strong surge in form from the team had a lot to do with early season skills development shining through.
"We concentrated a lot on improving our skills, things like lengthening our passes with accuracy and lowering our chop tackle height," Wilson said.

"Having the experience of Isah and Loretta Lealiifano to drive it has been really positive.

"Isah is the linchpin when it comes to the culture of the team. She's a key motivator and she's also in excellent form."
Pacy young back Lara Burnett will have to cool her jets for up to six weeks after a collarbone injury against Souths.