Towering lock Michael Stolberg left hospital to play a starring role in the 2013 grand final…and was back there on a drip when the celebrations fired up that night. 
Not even all his teammates knew the full story when "Stolly" got himself kitted up, like normal, in the dressing room for the decider against GPS at Ballymore. 
What unfolded was a courageous, full-on contribution from the key Easts forward in a rousing 27-22 success. 
With GPS heading to Bottomley Park for Saturday's Round 11 clash, it is a perfect time to celebrate the events of that famous Sunday in September nine years ago. 
It was the day that teenagers Michael Gunn and Jonah Placid both scored telling tries, club stalwart Luke Bertini retired on a high after his second premiership and first-year skipper Jack "Chuckie" Mullins held aloft the Hospital Cup.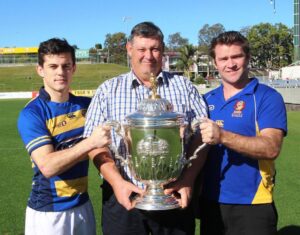 An infection in Stolberg's right leg had inflamed disconcertingly in grand final week. By Thursday night's training session, he was running a high fever and sitting out the session. By midnight the same evening he was in hospital on a drip being treated for cellulitis that would later require a chunk of his shin being cut out. 
"It was pretty inspiring to have 'Stolly' leave his IV drip in hospital, get to Ballymore and play a blinder in the grand final," lock partner Blake Enever said. 
Stolberg played the bulk of the game, with the help of painkillers, but was straight back to the hospital after the game for several more days. 
Of course, that wasn't the end of it. 
As the exuberance of "Mad Monday" grew, a band of his teammates reasoned that they couldn't leave him unloved in his ward of St Andrew's Hospital. 
Flanker Gunn, in a dress, No.8 Jarrad Butler, Bertini, Enever, lower grade prop Michael Bermingham, prop Kirwan Sanday and Stolberg's good friend Morea Pease all descended like some hospital comedy movie about to go off script. 
"The boys were off their heads laughing and carrying on but the nurses thought it was the funniest thing ever," Stolberg recalled with a laugh. 

"By the end of it, 'Bermo' was in scrubs with face mask and hair net and trying to swap a bottle of rum into my drip. 

"The boys thought I was missing out. It gave me a massive smile." 

Added Bertini: "It was a herculean effort from Stolly. We felt it deserved a special visit and he was silly enough to give us his room number." 
The grand final success was the culmination of a wonderful campaign for a tightknit group of players under coach Pat Richards and assistants Tim Sampson and Michael Lucas.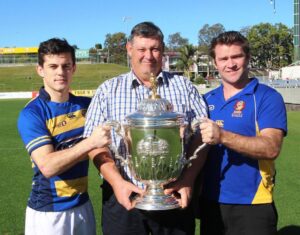 The team won the final five games of the regular season, including a last-round win over Wests to squeeze into second spot behind pacesetters GPS. 
Peter Mullins was team manager. He was ever-efficient except for the one time Sampson radioed through to the sideline to get a substitution made. No Mullins. He was spotted in the beer garden tucking into a meat pie with a hint of sauce on his face, according to one account. 
"I remember after the loss to GPS at Yoku Road (in Round 12). Matt Brandon said to Denis Owens and I 'how could we have possibly lost that game?'," Mullins recalled. 
The Tigers were clear leaders inside the final five minutes but were run down 38-33. They didn't lose another game. 
Thrashing Brothers 44-12 on Old Boys' Day at Bottomley Park in Round 17 was sweet. There were two tries apiece to Gunn and fullback Aidan Toua, plus a Placid special, in a strong sign of things to come in the semi-finals. 
"Beating Brothers like that was a real confidence-booster. I think we'd learnt a lesson…when in front, keep going and drown them out like Brothers do," Bertini said. 
A fractured eye socket to Toua unfortunately ruled out the electrifying attacker and top tryscorer (11) when the finals rolled around. He stayed involved by running the water in the grand final. It also significantly upgraded the role for young Placid, who had played most of the year in Colts and had sampled first grade on the wing. 
The Rockhampton product was still just 18 and was named Premier Colt of the Year across the competition. Fullback Placid was so young, nerveless and uncomplicated in outlook that he might have been playing with Stars Wars Lego a blink before picking up a footy for the grand final. 
He made a decisive mark. After the early try by the pacy Toby White was set up by a perfectly timed pass from centre partner UJ Seuteni, Placid stepped up to make it 12-0. 
Placid picked up a loose ball on the half-volley 45m out. What followed was a fine solo try of footwork and strength past three defenders. His coup de grace later in the game when GPS came roaring back was to charge down a GPS conversion attempt. 
Placid, Seuteni, 19, and Gunn, 20, were all barely out of school yet all played like the professional rugby players they would become. 
In fact, you grew more aware of the quality of that Easts' line-up as the years ticked on. Enever played two Tests for the Wallabies in 2017. Seuteni played Test rugby for Samoa at the 2019 Rugby World Cup and is still playing in France. Props Pettowa Paraka and Kirwan Sanday played for the Queensland Reds. Gunn became a Red as did Butler, whose greater mark in Australian rugby was more than 50 games for the Brumbies. He's just signed a new two-year deal with Connacht in Ireland. 
Long-time Easts servant and flyhalf Matt Brandon played briefly for the Western Force. Placid had time at three Super Rugby clubs as well as French club Toulon. 
Reserve hooker Andrew Ready has spent the best part of a decade with the Reds and Western Force. His rugby radar has brought him back to Bottomley Park like a true Tiger. 
Stolberg is playing in Japan after breaking through in Super Rugby with Japan's Sunwolves in 2020. 
"It was an awesome day…and the last thing I've won. It was an awesome group. When you see where many of those players headed in their careers, you realise we were all hitting our straps together for Easts," Enever said. 
Butler agreed that the momentum of that successful Easts' season helped shape careers. 
"The Brumbies were looking for backrowers. That grand final, that season with the Reds and Easts, was really important to me because it got me a foot in the door. Ben Mowen was at the Brumbies at the time. He's a Tiger through and through and I'm pretty sure he was a big part of getting me to Canberra," Butler said from Ireland. 
Gunn was a whirlwind like the best of openside flankers in 2013. He was every bit the young Gunn. He too had been playing Colts to start that season. 
His tackling, jackalling and ball-running energy was immense. The raucous crowd of 8670 knew it too when they generously applauded him when he was named the Tony Shaw Medal winner as player of the grand final. 
He made life tough for the GPS inside backs. Gunn, flyhalf Brandon and others did everything to effectively stall the running power of young Wallaby-to-be Samu Kerevi to restrict the supply of front-foot ball to more Fijian dangermen out wide. 
Manager Mullins appreciated the growth in the team when playing GPS: "It had been a very tense and nervous dressing shed ahead of the major semi-final. It wasn't until just before half-time when Blake Enever stole a GPS lineout, charged forward and set 'Gunny' on a dash to the tryline in the can bar corner that we felt we had broken them (in 21-6 win)." 
Earlier in the year, Gunn put such venom into a huge tackle that jolted University's former Wallaby Rod Davies airborne at Bottomley Park that the footage went viral on the internet. 
"It's still one of the biggest hits I've ever seen. Oh my gosh. There are times you need to stop a game to appreciate certain moments and that was one," Butler said. 
Just after GPS had closed to 15-12 in the grand final, Gunn was the man for another big moment. Some neat foowork from a standing start left two GPS forwards on the turf groping and he plunged over for a key try. 
"That fast start was so important. I've played at Easts since Under-7s. I've been at Tiger-land all my life…that's why this means so much," Easts skipper Mullins said amid a sea of Tigers' fans on the field.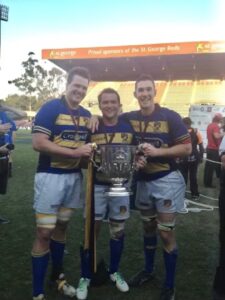 The players were enveloped by the roaring Tiger Army which descended from XXXX Hill at full-time. Club stalwarts like Tim Stoddart, Ricky Nalatu, Scott Eisentrager, Jade 
Ingham, grey nomad Denis Owens and then-Reds coach Richard Graham were among those lapping it up. 
"It's been a helluva ride this year. Having the Easts' supporters banging the fence and all their noise really helped when we needed to dig in and defend on our line in the second half," Gunn enthused on field. 
Bertini was as productive as ever in the backrow. He raised his 100th Premier Rugby game in the grand final. Typical of his no-fuss approach, he confirmed his retirement at 28 on the day after the grand final rather than make it about him in the build-up. 
"Like most grand finals and milestones in a career, that game went like a flash. I remember running out after half-time and feeling like we hadn't had a break. $%*, we've got a tough 40 minutes to get through here…and we did," Bertini said. 

"I was proud of our set piece through the season. Pettowa and Kirwan, as props, were always solid and we had tall timber in the second-row with Blake and Stolly." 
GPS backrower Liam Ferguson had hurled a water bottle at Bertini during a regular season match when the Easts flanker had given him a few words of farewell after a send-off. 
Bertini found him at the bottom of a ruck in the grand final and may have given him his thoughts and feelings again. They shared a beer after the game. 
Reserve lock Lachlan Walker announcement his retirement as well. He played the final minutes to add a second trophy to his role in the 2008 premiership. 
Tiger-town was pumping on grand final night. Enever has a lovely and vivid memory of the late Julie Laws, as Club Manager, finally giving in to the frequent requests for more drink tickets from Paraka.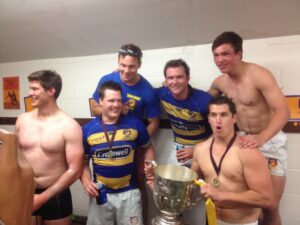 "Julie gave him a whole roll of drink tickets. It was like he'd won the absolute jackpot at Timezone. He was the guardian of an endless drink tickets roll," Enever said. 
Enever went much deeper when explaining what the Tigers meant to him and his rugby career. 
"That year was my first real taste of striving for excellence. There was no acceptance of being mediocre. I have great mates to this day from that team and you do realise we had something special," he added. 
He singled out Brandon as a pure club stalwart always capable of finding something. 
"He might look a terrible athlete but he had the ability to turn it on," Enever said with a grin, "He made the good linebreak before the Gunn try in the grand final and he always had a really high rugby IQ." 
Brandon had won the 2008 grand final on one good leg because of a hamstring injury. 
"Brando might have an issue like a sore neck but he'd always be over the ball jackalling. I'd joke he was a madman," Butler said. 
Stolberg needed to watch replays of the 2013 grand final to fill in the blanks. 
"I played OK with the infection because the adrenalin of a grand final took over but I don't actually remember too much of the game," Stolberg said. 

"I remember having one beer in celebration and heading straight back to the hospital." 
He had another mark on that season. Before one game, coach Richards and Co stressed certain acts that should never be attempted deep in your own territory. 
Within minutes of the kick-off, Stolberg had lapsed with one of the cardinal sins. 
The pained cry "Stolly, not in our 22" rang out. Teammates are split on whether Stolberg attempted an intercept or hacked a kick downfield but it stuck. 
The text message group for the rest of the season was titled "Stolly Not In Our 22." A classic. 
"I still regard Pat Richards as one of the best rugby coaches I've ever had for his ability to mould players into a winning game plan," Stolberg said. 
Richards had done some clever recruiting too over a period of time as he tinkered with his equation for success like the maths teacher he is. He'd got prop Kirwan Sanday across from Brothers and Enever had started on the Sunshine Coast. Butler and the Cox Brothers, Sam and Sean, were excellent pick-ups from the Gold Coast Breakers. 
Richards changed the team's defensive system for 2013. It played a big part in blunting minor premiers GPS twice in the finals series. 
"We did have a big focus on 'D' and in the grand final that meant getting up on Samu Kerevi. I missed him a few times but I helped stop him quite a few times too," Brandon said. 
Club records are sketchy but Brandon's 187 first grade games are a wonderful reflection of all he put into the Tigers. He won premierships in 2008 and 2013 and won the club competition's Player of the Year gongs in 2007 (Tooheys New Medal) and 2012 (Alec Evans Medal). His 195 points were fuel on the scoreboard throughout 2013. 
"'Brando' was an ultra competitor. Guys like Jarrad Butler and Blake Enever ran the forwards in a lot of ways that year and Jack Mullins and Brando gave the backline strong leaders too," Richards said. 
"We knew we had a very good side and I feel 2013 was an important phase in Easts' history that gave the club direction for a good future." 
Festivities are fabled after grand final wins at Easts and 2013 was no exception, Inevitably, they found a way to the "Milton Turf Club", a share house in Heussler Terrace near Suncorp Stadium. The artificial turf on the deck spurred the name. 
Halfback Mullins, hooker Matt Randell, 2008 premiership-winner Pat Ritchie and Sam Morahan, who had a bloodline from 1997 and 1999 title-winner Matt Morahan, were hosts at the party house for the best part of a week. Easts had some worthy five-day "Test match specialists" to make sure of it. 
"I remember being particularly nervous before the grand final. A young guy like Jonah wasn't at all nervous because he did see it as just another game," skipper Mullins said.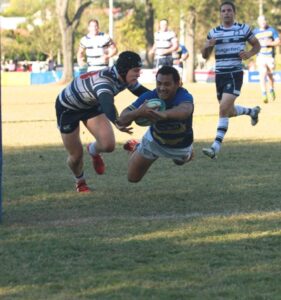 "'Gunny' was more of an old soul for a teenager. He had a mature rugby brain even then. "The older guys in the team appreciated what a tough gig it is to win a premiership. Brando was a broken old man so he certainly knew to make the most of that day. 

"We did have something special that season. We genuinely enjoyed the footy we played. When someone scored a try, on most occasions you had 14 other players straight in there celebrating with him." 
The 10-Year reunion for this band of Tigers will be a worthy occasion in 2023.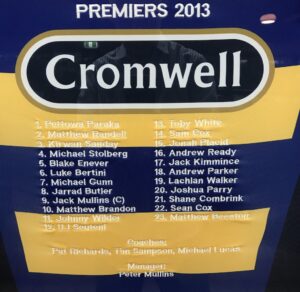 EASTS 2013 PREMIERS: 15 Jonah Placid, 14 Sam Cox, 13 Toby White, 12 UJ Seuteni, 11 Johnny Wilder, 10 Matt Brandon, 9 Jack Mullins (c), 8 Jarrad Butler, 7 Michael Gunn, 6 Luke Bertini, 5 Blake Enever, 4 Michael Stolberg, 3 Kirwan Sanday, 2 Matt Randell, 1 Pettowa Paraka. Replacements: 16 Andrew Ready, 17 Jack Kimmince, 18 Andrew Parker, 19, Lachlan Walker, 20 Josh Parry, 21 Shane Combrink, 22 Sean Cox, 23 Matthew Beeston 
Easts 27 (T White, J Placid, J Butler, M Gunn tries; M Brandon 2 conv, pen goal) bt GPS 22 (P Kite, N Frisby, J Ellis, S Kerevi tries; N Zingari conv) 
Do you have photos of our 2013 Grand Final to add to the collection? We'd love to hear from you, please contact us at [email protected]
2013 Grand Final Highlights
Crunch time...the Michael Gunn video