Nigel Holt's wicked sense of humour is as renowned as his reputation as a 1980s enforcer which explains the censure of his old Wallabies coach Alan Jones. 
When the brawny, bustling lock from the best Easts' teams of the 1980s was overlooked by Jones, Holt decided to make a point of it. 
It just so happened his will was being drawn up at the time by a young solicitor named Marty Burns, who played in the same Tigers pack. The same legal eagle is now The Honourable Justice Martin Burns, Judge in the Supreme Court of Queensland. 
Inserted next to all the financial details in the will was a specific instruction never to allow the voluble Jones to speak at Holt's funeral. 
"He didn't select me for something and that instruction was in my old will but it was all tongue in cheek. 'Jonesy' and I talk and text a bit these days," Holt said with a grin. 
The Holt laugh is more a bellow. He loved the good times around Bottomley Park and rugby in general as well as competing ferociously on the field. 
Jones was a Holt advocate and actually bestowed his famous nickname. 
Holt was playing against two Auckland All Blacks one afternoon at Ballymore. Holt didn't take on one but both with feisty exchanges with Andy Haden and Gary Whetton in front of the grandstand. 
Jones clearly liked the cut of a forward standing up to the Kiwis. He gave the waiting media just what they wanted by describing Holt as "a real shredder" for hopping into them. 
He was nowhere near as tall as the young NSW skyscraper of the day, Steve Cutler, but there were ways to even things up. 
"I knew I had to step on his feet, get in an elbow and jump all over him because those were the days of no lifting in lineouts," Holt recalled. 

"I enjoyed the physical contact and winding people up, still do." 
Sure enough, the 1.94m Holt was selected in Jones' initial Test squad of 1984 and played his only Test against Fiji in Suva. 
"Playing for the Wallabies is the ultimate goal, what you strive for. It was a great honour, the best," Holt said. 
He'd worked hard for it and had always done so to get ahead. When he dived into the shallow end of a swimming pool at 13, three doctors told him never to play contact sports. 
"It'd crushed three vertebrae in my neck. I listened to the three other docs who said I could play so I recovered and got into soccer, Aussie Rules and then rugby," Holt said. 
His success was also joy for his proud mother Judy, who had raised this massive frame of a young man alone since he was 14. She was a long-time councillor for the Redland City Council and stalwart of Redlands Rugby Club where Judy Holt Park honours her. 
The return of Steve Williams and the rise of Cutler blotted out Test chances for Holt on the famed 1984 Grand Slam tour of Great Britain and Ireland. 
It didn't stop Holt being a valuable figure in the midweek games on the 18-match tour. 
"If you liked your second-rowers to keep up remorseless bludgeoning, jump strongly and be utterly fearless and committed, Nigel Holt was your man," wrote author Terry Smith in his book, Path To Victory: Wallaby Power in the 1980s. 
When Holt positioned himself cleverly to back up for the final 30m dash to finish a length-of-the-field try against Glasgow, every Wallaby in the stand got up to cheer the popular figure home. 
He threw as much into his appearances for the Tigers and partnered Peter McLean, another Wallaby, in Easts' 1984 grand final side.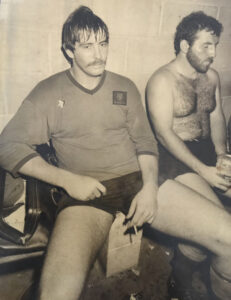 "It was a highlight but a disappointing highlight in the end. We played our grand final two weeks early when we knocked off Brothers in a semi-final (15-13) because we were beaten when it counted (18-3)," Holt said. 

"I only played at one club. I really enjoyed my time at Easts. We might have been labelled battlers but we had good stretches of wins and it was always a team of good blokes." 
Holt knows times have changed. He was an old-school enforcer when a flying fist might spur a stern look and a penalty from a referee but rarely a send-off. 
"The poor buggers of today can't get away with anything," Holt said with a grin. 

"I always figured if you sensed something was going to happen, I may as well start it. 

"It was always a battle against Brothers with Tony Shaw and the Nightingale brothers (Shane and Mark). 

"You had fun too. I didn't really talk to backs but (halfback) Denis Owens was being a bit annoying one day so I pulled him into the opposition side of the ruck so they could sort him out. 

"I remember (hooker) Mike Georgantas was $%&# himself about playing against (Wallaby) Tom Lawton one day in an Easts-Souths game. 'Brutus' (Georgantas) hadn't called Tommy a pussy but that's what I told him I'd passed on to Tommy. All good fun." 
The policeman's son found more than friendships through rugby. When his own father Colin died young, Holt found strong adult figures in the game. 
"I found a lot of mentors through rugby at an important time in my life. John Greene (at Churchie), Mike Thomas and others at Easts. About the game, I can't say enough about the tips and confidence that "Spider" McLean gave me from his own experiences for Queensland and Australia," Holt said. 
Holt features in a long line of committed East's second-rowers through the decades. The likes of Reg Brandis, "Spider" McLean, Peter Murdoch, Matt Morahan, Blake Enever and Michael Stolberg stood tall in the positions before current locks Zac Shepherd and Will Sankey. 
Top Caption: Nigel Holt (right) eyeballing Brothers captain Tony Shaw before the 1984 grand final