The family vibe around the Soloai family's enjoyment of Easts even stretches to eight-year-old Brooklyn joining mum for pre-game warm-ups.
When you talk of Easts as a family club there is no better example than this nonstop household of footy boots, jerseys, socks, training kit and misplaced mouthguards.
Prop Theresa is already through to the September 18 grand final at Suncorp Stadium after her try-scoring stamp for the women's team in the tough 17-7 semifinal win over GPS.
We talk of power couples in footy.
The Soloais definitely fit the tag because husband Thayne will be shunting away at prop for thirds on Saturday in the preliminary final (3pm) against Souths at Sunnybank.
Supporting them all the way will be Brooklyn, Khaleesi, 3, and Zayn, 1.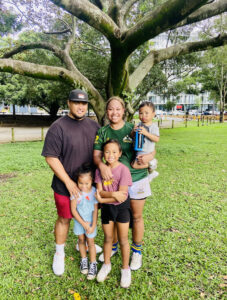 "Every week of the season is a busy week but family is definitely the reason I enjoy Easts because my whole family is down there," Theresa said.

"My husband plays, my sister (Taulaga Malaitai) is at lock, my niece (Malaela Su'a) is also in the pack, my sister-in-law plays No.10 (Loretta Lealiifano) and Brooklyn is in the Under-9s.

"Kids from all of the players join warm-ups for the women's team.

"Basically, we can be down at Easts from 8am to 8pm on certain game days."
It's non-stop for mother-of-three Theresa who works in the child safety sector and is forever gratefully that her own mum Matele looks after the kids when she needs to train.
The Easts' women's team will be shooting for a third straight premiership on September 18. Things didn't look so bright and upbeat during the pre-season.
"Honestly, we didn't know if we'd be able to field a team when we had only six players for some early sessions," Theresa said.

"The team has really come together with a lot of new faces and some young girls in the backline like (fullback) Piper Flynn, who has been a standout since joining mid-season."
Theresa has played five times for the Queensland Reds and shared in last year's premiership high. Experience also counts through teammates like hooker Laina Cooper-Finau, prop Tina Brown, Malaitai, Lealiifano and Wallaroos skipper Shannon Parry, who was a valuable starter against GPS.
"Experience helps a lot at this time of the season. It helps the team stay calm and helped us pull together as a team after we were down from two bad losses late in the season (to University of Queensland and Souths)," Theresa said.

"That was a really good win over GPS and Shannon's presence was unmatchable."
Throughout September, Oceania Rugby is celebrating Women in Rugby Month. Participation is at an all-time high globally for women's rugby.
A webinar on leadership on and off the field on September 14 will be one of the feature events of the month.
Access to a full program of events can be found at https://oceania.rugby/newsand-events/events/women-in-rugby-month
Theresa will be in her husband's corner on Saturday.
"Thayne's a shift worker. He finishes at 6am so I'll look after the kids with breakfast down at Easts while he sleeps and then we'll all head to Sunnybank. We'll be there early to cheer on the fifths," Theresa said.
The Soloais keep away from rugby advice at the dinner table.
"We try not to talk rugby at home. We're competitive, of course, so there might be some banter about who is the better prop," Theresa said with a laugh.
Easts have fourths and the women's team through to grand finals already.
Thirds have their shot on Saturday as well as fifths who face UQ from noon at Sunnybank.
On Sunday, in-form backs Taj Annan and Jarrod Homan will lead the way when Colts 1 jostle with Brothers in the preliminary final at noon at Bond University.