Greg Riley's first premiership for Easts was 20 years in the making and it tasted just as satisfying as he thought it would.
Of all the victory stories and celebrations from grand final weekend, no one had toiled longer to deserve it than the 40-year-old lock from third grade.
The Tigers had plenty to celebrate with premierships in thirds, fourths and fifths from Saturday's action at Wests Rugby Club and a shared Colts 1 premiership from the club season finale at Suncorp Stadium on Sunday.
Lineout leader Riley relished playing with the club's "Comeback Kids" who won a nailbiting grand final 31-30 over Brothers from 15-0 down.
Fittingly, Riley was part of the unseen power within the Tigers pack that moved the scrum just enough to give halfback Ben Littleton the chance to scoot over for the winning try on the short side in the final minutes.
"Very special, very satisfying," Riley said after the thriller.
"I've played a lot of years at Easts and given everything for a long time.

"This has been an amazing year, an amazing squad, an amazing coaching staff. The support and culture of the club has been second to none…and it's always been like that.

"I'm just so pleased for the boys, the club and personally as well. I've been waiting a long time for this premiership."
The healing power of rugby has helped Riley through the toughest of personal circumstances since the loss of his wife Belinda in 2019.
His parents and sister were babysitting his kids Thomas, 8, and Eve, 5, just so he could train this season.
Riley played in the losing 2015 first grade grand final, was playing Colts as far back as 2001 and in the Easts juniors before that
"Every year, Easts turns out these kids who are great young players but also great quality humans. Some of these guys in thirds are half my age and give me a new lease of life," Riley said.

"I'm going to savour this. I don't know if I'll be back for another season."
Turning after half-time with the wind in their favour filled the Tigers' sails.
No.8 James Livingstone excelled as one of those young high performers as did dynamic Lachlan Tokome, the smooth-moving fullback destined for higher grades after his runs on attack in the grand final.
Flanker Louis Jorgensen had a big motor off the field as well. He enjoyed the occasion so much he was still going at dawn at the club on Sunday morning. Still, in his match jersey, of course.
Up front, the front-row of veteran Reynor Guildford, Thayne Soloai and Ramese Uoka was rock solid while skipper Charlie Olsen set the tone with a try-saving tackle in the early minutes.
Littleton confessed the final try owed a little to luck as well as instinct.
"When the scrum wheeled, the call was to go back left but I didn't hear it. I went right instead but it ended up OK," Littleton said with a smile.
Flyhalf Sam Kirk lapped up Saturday's grand final day. He was a key cog in fourth grade's 34-32 grand final triumph over Brothers before playing more than half the grand final in thirds as well.
He banged over the conversion of the late Littleton try to ice the victory in thirds.
A day later, he still had two premiership medals jangling around his neck like the oversized bling of an American rapper when supporting the women's and Colts teams from the grandstand at Suncorp Stadium.
"Sam gets underrated because he's the third Kirk brother but he kicked and played really well. No one else in his family has won two grand finals in one day," Littleton said.

Kirk was delighted: "It's the best feeling ever after losing the third grade grand final to Brothers back in 2019.

"To beat Brothers twice in one day definitely makes up for it."
Two big rolling maul assaults won the fourth grade grand final in the closing stages, including flanker Jacob Day's match-clincher.
The 27-26 thriller in fifths was another grand final won from behind. Cool flyhalf Mitch Gunning banged over the penalty goal to win it with only minutes left on the clock.
Flanker Tom Sullivan was named man-of-the-match.
Veteran forward Brian Kirkup announced pre-game he'd be retiring. He came off the bench to share in the fifths' success before finding himself as a reserve for fourths and sharing in another win.
"Everyone's ecstatic. No one dropped their heads when we were behind. We'd come back to win twice earlier in the finals," Gunning said.

"Those last few minutes, everyone just made their tackles when we knew we couldn't give away a penalty because we were right in front of our posts."
The Tigers women's team led 12-0 after 20 minutes when they backed their superiority at scrum time and their strong forward runners.
A penalty try from sustained pack pressure and halfback Maggie Glassock scooting over down the shortside from a scrum win were just rewards.
Bond University's pace in the centres through standout Mel Wilks turned the tide as the heat sapped the Tigers. A 25-12 loss was a disappointing end to an otherwise excellent season.
In the Colts 1 decider, Easts hung tough throughout. Again, it was outstanding resilience from behind that counted.
The young Tigers trailed throughout until flanker George Stoddart scored to tie the scores at 22-all with two minutes to play. He latched onto a fine long pass from halfback Sam Farrar. The conversion attempt from near touch from flyhalf Taj Annan flew to the left of the posts.
The curious call to declare a joint premiership with University of Queensland left players on both sides puzzled because they wanted extra time to resolve a victor.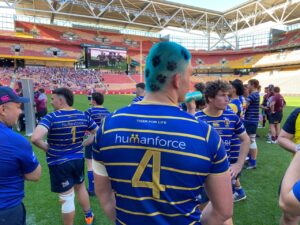 There were mixed emotions immediately after the game and not because lock Taine Riori was sporting the day's strangest hairstyle after losing a bet…short, dyed-blue hair with tiger paw print motifs.
"I feel a bit deflated although it's an awesome feeling to share a premiership and Easts' first (in Colts 1) in 21 years," Annan said.
The significance of what was achieved will sink proudly into these teenaged minds more and more. Only the Colts 1 sides of 1986 and 2001 had previously savoured such a success since the Queensland Rugby Union introduced Under-19s in 1961.
"We were under the pump there and we took some time to get into our rhythm and counter that. It was good to stay in the fight," Annan said.

"We played a lot of must-win games over the last eight weeks of the season and it sort of represented how we played out the grand final.

"It shows the attitude of the boys, that will to win."

Stoddart agreed: "We came together pretty much as a brand new Colts team this season. We grew and grew and there are a lot of guys who will back up for another good year next year."