Easts has enjoyed an international flavour few fully appreciate because the likes of Anton Toia, Richard Kinsey, Arwel Thomas, the Rauluni brothers and Grant Batty made the club their home.
For some, it might have been a one-season stopover on a bigger rugby journey. For others like Toia and his family, the Tigers became a major part of a new life.
The roll call of players from multiple points on the rugby map who found footy, mates for life and fun at Easts is impressive.
Baby-faced young flyhalf Thomas (Wales), prop Darren Morris (Wales) and lock Stewart Campbell (England) went on to substantial Test careers.
Lock Kinsey certainly bumped and bruised a good number of Test players when he returned to his homeland of England to play for the Wasps club in 1990.
He'd won a Queensland debut just a few months before which topped off a bizarre recruitment story and several seasons of mayhem on and off the field.
Back in the 1980s, a Canadian lock named Dave Beale relished the rugby community he found at Bottomley Park. The gridiron pass thrown three-quarters of the way across the field, by "The Lumberjack", is still the stuff of club legend.
Prop Epeli Naituivau and backrower Seta Tawake, both 1999 premiership winners with Easts, played for Fiji at the Rugby World Cup that year beside devoted Tigers halfbacks Moses and Jacob Rauluni.
The Tigers have long been nourished by the flamboyance of Pacific islanders. Winger Shane Tiatia may have hailed from Wellington but it was Samoan power in those pistons he pumped to score two tries in the 1999 grand final triumph.
In the 2008 premiership side, Pale Toelupe and player-of-the-match Herman Porter paired in the centres in the grand final. They too brought the Samoan flair and hardness that was first cultivated by Churchie bringing them to Brisbane on school scholarships.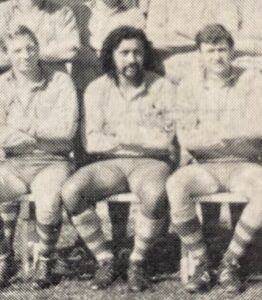 Equally, power up front this season has come from the likes of props JP and Laurence Tominiko, brothers of Samoan heritage.
Toia, who passed away prematurely at 54 in 2001, was something of a pioneer in the early '70s.
He made the move from the Wainuiomata Rugby Club in Wellington as a fiery Maori flanker with the big, wild hair of the day and a moustache to match.
"He was told he'd enjoy Easts because it was just like playing at home with the right mix of what rugby is about on and off field," son Lonnie said.

"You had to earn your beers.

"He played it that way throughout his career. I remember when dad was playing down the grades in the 1980s, he and (ex-Wallaby) Chris Handy both started swinging punches and both got sent off.

"Before they'd finished walking to the sidelines, they'd organised drinks in the bar together for after the game. That's the spirit he played the game in."
Toia poured all the natural strength of his physical toil from labouring and construction into his industrious, no-nonsense play. He was a significant reason behind the Tigers winning their way into their first grand final in 1971. The same can be said of captain and fullback Jim Stratford, another Kiwi arrival, who made his debut for Queensland earlier that season.
When Lonnie Toia entered the lower grades as a raw young flanker in the mid1990s, you wouldn't believe it. His father, now well into his 40s, was still playing as a prop. In the same side.
"Dad always taught me to bend the laws wisely so I was binding on my opposition backrower at a scrum to prevent him getting out at our flyhalf," Lonnie recalled.

"The backrower didn't like it so he started throwing a few punches. I heard 'don't hit my son' as dad started throwing a few of his own which glanced over the top of me as my young head buried into my opponent's chest."
It was a true love affair with Easts. Toia met wife Jo at the club. Sons and grandsons have played at the club too. Lonnie finished his own career in 2003 with a lower grade premiership.
Anton became the club strapper and, through the 1990s, was a respected assistant baggage master-masseur for touring Super Rugby and international sides.
The Scottish thought so much of Toia they invited him to be part of their management group in Scotland at the 1999 Rugby World Cup.
It was a great shock when Toia had a heart attack and drowned at Coffs Harbour after a day on a whale watching boat with members of the British and Irish Lions tour squad. Tour manager Donal Lenihan and Lions forward Lawrence Dallaglio paid their respects personally to their much-loved baggage man at his funeral.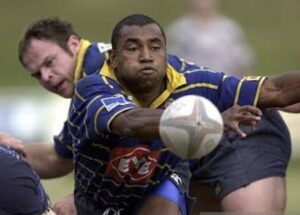 Kinsey's arrival at Easts in 1988 is worth retelling. Club stalwarts Graham Holt and George Hooper were enjoying a few beers at the Ship Inn at South Bank during the height of Expo 88.
Kinsey just happened to walk by. He had size and a broad chest and both pondered if he might play rugby. Hooper decided to ask: "Do you play some rugby?"
Kinsey and a bunch of English mates had just arrived in Brisbane to enjoy the delights of the international festival. Yes, he did play rugby. By the following Saturday, he was on a bus with Easts' fifth graders to play the Nambour Toads.
That was the last the lower grades saw of him. He gave the first grade pack authority for the next three seasons with power, skill, self-confidence and a streak of wildman.
When we tracked Kinsey down in England this week, his memories were vivid.
"Brisbane was a fantastic time in my life. It was just training, playing and enjoying. I just loved the club and the bond with good friends to this day," Kinsey said.

"Without a shadow of a doubt it forged my career that followed with Wasps back in England.
"Easts had some fantastic players in that period with Paul Kahl, the young Dave Wilson and Greg Hassall. Others were not recognised like they should have been like 'Pottsy' (Stephen Phillpotts). You had the Murdoch boys, John Dann, 'Holty', Pat Richards and guys like Brook Shaxson, who gave 100 per cent even when he didn't look like he could run from here to the postbox.
"We didn't win all the time but there was no side in the Brisbane comp we didn't think we could beat."
Kinsey revelled off the field too. There was almost a weekly party at the home in Meridian Street, Coorparoo he shared with Easts regular Paul Goodman-Jones.
It didn't matter that he was 117kg-plus, he was up for rafter races in the clubhouse like the most nimble of halfbacks.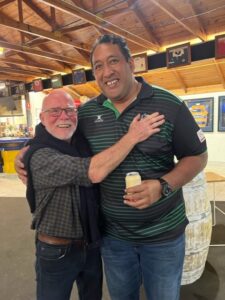 He skippered the side in 1989 when Easts took an audacious punt with Frenchman Michel Celaya as coach. Celaya had been a decorated former French international forward in 50 Tests and had served on the coaching staff as well.
He had little English but his rugby knowledge was vast. Then-Club President Bryan Kassulke did everything to smooth the way by paying for his accommodation, organising a car and much more.
"We had a French coach who didn't speak English, a Scotsman (Angus Thompson) as a translator, an Englishman as captain and a bunch of Aussies. From the outside, it might have seemed hysterical but we had a strong season," Kinsey said.

"I stopped going to work on Mondays. I'd go around to Michel's place to discuss the team and planning and we'd join the pieces up at training."
The 1989 Tigers won the statewide Winfield State Challenge and finished third in the premiership.
"Michel was a legend. When (lock) Rob Korst gave some cheek at training, Michel played with him 'Come here and I'll show you how to take the ball off you'," Kinsey recalled.
Celaya was nearly 60 but urged the young giant to run at him. Korst declined the mismatch before finally obliging.
"Michel chinned 'Korsty' and said 'See, it is very easy for me' as he picked up the ball from beside the fallen body on the ground," Kinsey said with a laugh.
There's a famous photo that periodically does a lap of the club's social media with Kinsey and Kassulke nestled next to 11 slabs of XXXX at the scoreboard with a fresh 59-18 scoreline.
Kassulke had put the first grade side on an incentive…a carton of beer for every point over a 30-point margin against Sunnybank. So…11 points to the good, 11 cartons.
Arwel Thomas was still in his teens when coach Grant Batty organised his arrival in Brisbane through a contact in Wales. The flyhalf was a diminutive figure.
"I met Arwel at the airport and he looked 14. I thought I'd been sold a dummy until I saw how good a rugby player he was," Batty recalled with a laugh.
Thomas lived with Batty and wife Jill for his season in the early 1990s.
Added former centre Tomo Boston: "Arwel could play. He had a perfect pass and that zip-zip acceleration when he ran."
Thomas went on to play 23 Tests for Wales (1996-2000).
Prop Morris helped the Tigers into the semi-finals in 1995. The Welsh forward so impressed Batty that the coach dispatched immigration papers to his home in Wales to tempt a full-time return.
"I was actually asked to migrate. I did consider it quite a lot. The forms were sitting in front of me," Morris told me when he returned to Australia as a British and Irish Lion in 2001.

"Wales is where my heart is and I had aspirations to play for my home country."
He did too. He played 18 Tests for Wales and a Test for the Lions on that tour when he dropped by Bottomley Park to connect with old Tigers teammates.
Up front, 2013 premiership prop Pettowa Paraka rose to play for Queensland before returning to his homeland of Papua New Guinea.
Boston was a strong-running centre in the late 1980s and early '90s with an exotic heritage.
He was born in Guyana, lived in Port Moresby for a time, took up rugby when studying in Canada during northern hemisphere summers and attended Brisbane's Clairvaux College.
He played sevens for Australia and debuted for Queensland against an England XV after a flip to Souths.
"It was like a Commodore next to a Maserati," now-Club President Dave Waldie recalled of playing in the centres beside the bumping, athletic Boston.
Boston has only fond memories of his days at Bottomley Park: "There were always a lot of characters. Guys like 'Bubba' (halfback Shane Thomas) certainly instilled in you that team-first philosophy at the club.
"The atmosphere around the club was fantastic and all the grades stayed around to watch A grade. You'd have a drink in the corner of the bar and listened to oldtimers tell stories.

"We didn't have the flashy players but we worked hard at achieving success. We really enjoyed a good time as well, perhaps to our detriment on occasions."
Boston played at Easts with Yoshihito Yoshida, the 30-Test Japanese winger who had a rock star moment.
Look it up on YouTube. Yoshida made a diving full-stretch catch of a kick to score a try for the World XV against the All Blacks in 1992.
It made him an instant star in Japan but he was still just "Yoshi" when he came to play at Easts in second grade and some first grade.
"I remember a Japanese TV crew turning up to Easts training to film Yoshi. He had Nike boots with his name on them and that's back in the 1990s," Boston said.
It's not how you arrive at the club that matters but the mark you make when you stay.
Kiwi Mike "Brutus" Georgantas arrived in Brisbane from Hutt Valley in 1981 with the aim of playing for Wests where former All Black John Dougan was the new coach.
"I was in a cab talking rugby and the taxi driver pointed to the Clarence Corner Hotel as a good rugby pub. (Easts' Wallaby) 'Spider' McLean was serving beers," Georgantas said.

"I never made it to Wests. The people, the camaraderie, certainly not the charm of (former coach) Mike Thomas, drew me to Easts and it's been my club ever since."
Batty literally bumped into Salafai Sala when he was serving at a petrol station and invited him down to Easts. The same formidable figure would end up in the backrow as a vital cog in the club's first premiership side, under Batty, in 1997.
That's why it was a special moment when Batty, now 70, bumped into Sala Sala, for the first time in years, at Old Boys' Day at Bottomley Park last Saturday.
Batty was a wonderful All Blacks winger in the 1970s. He was a prestige name to coach at Easts who always knew the essence of rugby was in the friends you made, good people and the common striving as well as the successes.
He made the drive up from tiny Wallabadah in northern NSW for Old Boys' Day and to accept the invitation to present the jerseys to the first grade side.
Ever one with a chuckle, Batty said his few words in the dressing room clearly had an impact.
"We were down 22-0 at half-time before they wore off. A great day with good people and a great win," Batty said of the 24-22 thriller against Brothers after the bell.
Here's a stab at an Easts' World XV with apologies to the ever-competitive Rauluni brothers who would share a half each at halfback.
EASTS' WORLD XV: Jim Stratford (NZ), Yoshi Yoshida (Japan), Pale Toelupe (Samoa), Herman Porter (Samoa), Dean Roberts (NZ), Arwel Thomas (Wales), Moses and Jacob Rauluni (Fiji), Seru Uru (Fiji), Tu Tamarua (NZ), Anton Toia (NZ), Richard Kinsey (England), Stewart Campbell (Scotland), Darren Morris (Wales), Mike Georgantas (NZ), Epeli Naituivau (Fiji). Coaches: Grant Batty (NZ), Michel Celaya (France), Mike Thomas (NZ)