The 2008 premiership was only the start of the party that put Easts on top of Australian rugby for the first time.
Skipper Jade Ingham and his men celebrated long and loud after the 22-21 victory over Brothers to end a 19-year drought without the Hospital Cup.
One of the spin-offs was entry into the Australian Club Championship clash early the following season. The annual meeting of the Brisbane and Sydney premiers was only spasmodically played during the 1990s so the Tigers' 1997 and 1999 sides never got the chance to bid for the gong as Australia's top club.
When the concept was reactivated Sydney University trounced Wests (36-5) in 2007 and Sunnybank (24-0) in 2008 on visits to Suncorp Stadium.
To cocky Sydney University types, the Tigers were little chance of upsetting the streak when a 2009 clash was organised as a curtain-raiser at Sydney's Olympic Stadium before a NSW Waratahs-Crusaders Super 14 match.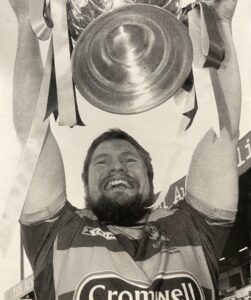 When Uni scooted to a 24-0 lead with their quick ruck ball raids, the engraver had every right to start early on the trophy.
What happened next was remarkable. The Super 14 match drew more than 32,000 fans that night. Those getting to the ground early couldn't quite believe the comeback they were witnessing.
The Tigers rattled on five tries in 30 minutes in the second half. All were converted by the indomitable Andrew Walker, who landed a towering 56m penalty goal for good measure. Waratahs players doing their pre-game sideline stroll reckoned it was pretty impressive too.
Who cared if he was 35. Walker was a wonderful ringmaster from flyhalf that night in Sydney. Fullback David Lucas scooted over for three tries to continue the rich vein of form that had netted two key tries in the grand final win over Brothers. Winger Coen Ladewig and centre Pale Toelupe added five-pointers too. The 38-31 win to Easts was a stunner. The only regret is that so few of the Tiger Army saw it with their own eyes. They've certainly heard about it in the years since.
Lucas recalls the occasion vividly, starting with the game-day morning walk through Paddington with Walker. It quickly became evident that it was Walker's old turf from his try-scoring days as a Sydney Rooster in the NRL.
"That walk was amazing. Blokes were calling out 'Walks, you're a legend', 'Hi Walks' and so on all the time. I didn't realise what an impact he must have had in Sydney," Lucas said.

"He did at Easts too. He had this calming influence on the field and just a great knowledge of the game that made players around him better.

"The penalty goal he kicked against Sydney Uni was incredible."
Flanker Luke Bertini agreed because he thought the distance too great and, as captain, thought first of a kick to the touchline.
"I was about to gesture to the sideline when Walks came up and said 'I've got this…I'll put it over'. He basically took the ball out of my hands. I had to back his confidence and he just smacked it," Bertini said.
League oracle Phil Gould has always rated Walker one of his favourite players.
"Andrew was a tremendously talented individual who could do almost anything on a football field, except stick to a structure," Gould once told Sydney's Daily Telegraph newspaper.
The Indigenous talent was a terrific bonus for grateful coaches Pat Richards and Andrew Scotney for the 2008 season.
The former Wallaby had been recruited by Eddie Jones in 2007 when the Reds coach had been scouting worldwide for players who might help drag Queensland rugby out of a slump.
When Jones left suddenly, new Reds coach Phil Mooney's youth agenda for 2008 had little room for a mid-30s utility. Walker was picked just three times for the Queensland bench in 2008 which meant he was available for nearly a full club season with Easts.
"We weren't expecting to see much of Walks but he played 75-80 per cent of games for us that season. He was awesome and one of the best recruits in the club's history," Scotney said.

"He was a calming influence at fullback and when we needed that big play, he could come up with something.

"Going into the 2008 grand final, we knew (flyhalf) Matt Brandon had his hamstring issue. When he came off at half-time, not many teams would have had the luxury of moving Walks to No.10 and Aidan Toua from wing to fullback as we did."
Walker was a pivotal figure in the 2008 grand final. The Tigers got off to a strong 8-3 start with centre Herman Porter making a powerful line break to set up the first of the Lucas tries.
At the 14-minute mark, Brothers fullback Damon Murphy speared into open space only to be felled by a thundering front-on, full body-on-body tackle by Walker.
Brothers lock Liam Shaw flew in past Murphy's prone body. His punch certainly inflicted no meaningful damage on Walker. Easts lock Lachlan Walker was third man in. He had to be. It was Brothers and the words of coach Richards were still fresh.
"Pat had told us one of our goals was too niggle 'Shawry' because he'd fire up and bite back," lock Walker recalled.

"It was hard to last a full game against Brothers in that era. Shawry and I were always going to have a bingle at some point."
Referee Paul Marks went straight for a red card. Shaw was sent off. Lachlan Walker copped a yellow and they trotted to the sidelines together.
"We're footy players and not very good boxers. I might have had a chat and congratulated him on his grand final on the way to the sideline," Walker said.

The roll call of Easts' 2008 grand final team
The boos from the strong Brothers sections of the crowd at Ballymore were instantaneous. Former premiership-winning Brothers coach Ron Price branded the send-off a "ridiculous" over-reaction to the incident.
Referee Marks explained he had "no other option" when Shaw punched Andrew Walker on the ground because of the instant dismissal rule for striking. Even fullback Walker felt the Brothers forward had been unlucky to go.
"I reckon he was hard done by to be sent off. You get niggle in a grand final and you like the get-squares to be on the field because it would have been a great game 15 men on 15," said Walker amid the euphoric post-match scenes. The Brethren were courageous. They led 13-8 with 14 men and fought back from 22-13 down to 22-21 to take the decider down to the wire.
Halfback Brendan McKibbin had a chance to break Easts' hearts but his penalty goal attempt with four minutes to play hooked wide on the breeze.
The Tigers had held their nerve. A second Lucas try and a five-pointer to centre Porter, winner of the Tony Shaw Medal as Player of the Grand Final, had given them momentum at the right time.
Sweat-soaked captain Ingham perfectly captured what had been achieved: "You can't buy that sort of heart. Ecstatic…that's the culmination of so many years of hard work for the club."
He was spot on. The background needs to be recorded. The Tigers had fallen into such a recession in first grade between 2003-2006 that the top grade side won just three games from 18 in 2006. They finished eighth and were leaking a whopping 31 points per game.
The overall results of the club generally disguised this. The prestigious Doughty Shield for champion club was won three times in a row (2003-04-05) thanks to the lower grades, Colts and two premierships (2003 and 2005) from the mighty Easts women's team.
Nothing could disguise the worrying signs for the sharper minds who could see the erosion of standards. In those poor seasons, there was a calamitous 62-7 loss to Brothers (2003), a 50-18 tumble to Sunnybank (2005) and an even bigger 59-12 fall to Sunnybank in 2006.
There were still comical moments a la this classic Sean Fell story when the young forward was to make his top grade debut in that 2006 game against Sunnybank.
"Sean came out of the sheds and ran all the way to the warm-ups. He'd forgotten to put on his shorts," Bertini recalled with a laugh.
Fell beat a hasty retreat to the dressing room at Oldmac Oval to find his full kit. Backrower Ben Mowen played in the centres that day.
In a way, it summed up the off-key Tigers of that time.
Richards and Scotney, both teaching at St Laurence's College, had finished coaching the First XV for the year when they visited the club on a Saturday late in the 2006 season.
"We had a look down at the club and couldn't believe the lack of atmosphere. Some players would go upstairs after a game, some would go home," Richards recalled.

"I'd call it soul-less. Neither 'Scots' or I had any experience coaching men at that stage but we agreed we should try to do something about it."
Care and guidance from two past players had an instant impact in 2007. Scotney's attacking ideas and Richards' fundamentals for the pack started to turn things around.
The Tigers finished sixth in 2007 with a much improved 8-10 record. There was a points deduction for a registration breach over red-haired Reds lock Cam Treloar before the penalty was ultimately scrubbed.
The impact was the same.
"We were all *&%$ off by the Cam Treloar thing. It made us hungrier for sure in 2008," Lucas said.

Added Bertini: "Looking back at those lean years made what we achieved in 2008 all the sweeter.

"Guys like Lachie Walker, Dave Lucas, 'Brando', Jade, Coen Ladewig and I had been around in those tough seasons when Brothers and Sunnybank pumped us by 50 points."
A particular moment stuck with Bertini that he used for inspiration all the way to the 2008 grand final.
"We'd been badly beaten by Brothers at Ballymore in a televised game and (Brothers and Reds flanker) David Croft came into our dressing room with this massive grin," Bertini said.

"Whether he meant it or not, he was basically saying 'thanks for the training run' and I was in earshot when Crofty said that to (Easts coach) Mark McBain.

"I held onto that. I really wanted to get one back and have Easts treated with respect again."
The building blocks for an even bigger improvement started falling into place for 2008.
Former Easts captain Richard Graham was by this time coaching at London club Saracens. With Scotney, it was organised that a likely looking lock from the Saracens Academy should link with Easts.
Adam Preocanin proved a hit and an invaluable source of ball from No.4 in the lineout.
Many years later, Preocanin was asked to name his Dream Team for an English rugby website.
Who was at fullback?
15. Andrew Walker – Played at Easts in Brisbane and even at 35 he carved up. I've never seen someone make so many dominant one-on-one tackles following a line-break.
Says it all.
Elsewhere in the pack, prop Sam Cummins was a St Lauries old boy and had reconnected with Richards.
Young prop partner Pat Ritchie stepped up big time just a year out of the Queensland Under-19s.
Likewise, Phil Braban was a backrow whirlwind of the same pedigree. He literally lifted himself off a stretcher early in the game to play a blinder in the grand final.
Veteran forward David Jessiman wore the nickname "Dad" with Braban and Ritchie such was the age difference.
Back-up hooker James Charalambous played plenty of games in 2008 and his cameo off the bench in the grand final was a real lift of energy.
David "Dapper" Hanham was defensive coach. The once-porous defence became the most miserly in the competition by conceding just 16 points per game in 2008.
Bertini was an emblem of the Tiger for Life mentality even before it became enshrined in a catchy slogan. He was already a 17-year disciple having started in the under-sevens.
In the backs, Walker made all the difference. Centre pair Porter and Toelupe were Samoan power and go forward. Lucas was finishing speed and the left boot every back three needs. He'd never been fitter and stronger and the Brumbies even sounded him out. Ladewig was the team's top tryscorer during the regular season (11) and teenager Toua was a freakish talent just out of school.
Lucas called the 2008 grand final the "fun-est game of my life." He got to re-live moments with eight other members of the 2008 grand final squad at the club's recent gala 75th Year Dinner.
Someone recounted that their 10-Year Premiership Reunion in 2018 wouldn't be complete unless they texted an invite to Liam Shaw.
"We did. 'Shawry' has shared a few beers with the boys over the years. He's a good guy. That's rugby. You leave everything on the field," Bertini said.

"He did reply with something like 'Enjoy the night you Tigerland %$&*'."
Lucas certainly slept in more comfort after the 75th Year dinner than after trophy night in 2008. Lucas, Pat Ritchie and Phil Braban decided a bed of post pads in the dressing room would do after a long night.
Brandon was the sharp operator for 2008 as playmaker outside halfback Curtis Franks. He'd beaten Croft on the inside for a try in the 32-16 win over Brothers in the major semi-final.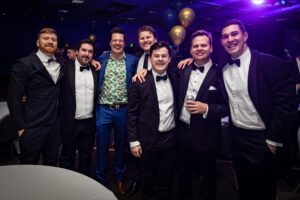 Unfortunately, he did his hamstring in the process and spent the two weeks before the grand final on Cameron Lillicrap's physio table. He started the grand final but it was clear early on he wouldn't be able to go the distance.
No way was he going to miss the grand final.
"When I was first into the team around 2004-05-06, there was a kind of perception that if we didn't win, it was OK," Brandon said.

"'Scots' and Pat put the onus back on the players to get better, find improvements in their games. It definitely made me better and others too," Brandon said.

"They created a much better mentality and structure.

Celebrations begin…Easts' 2008 premiership heroes

"Jade as captain worked too. He was 100 per cent on everything…cleanouts, tackling, you name it. He was very good one-on-one with blokes, had the respect of all and he led by example."

Added Lachlan Walker: "'Jaydos' could get us fired up. He had us ready to run through a brick wall on grand final day."
Brandon still copped a cut from the nose to the lip at the bottom of a ruck in his half a game. He was shepherded to St Andrews Hospital for eight stitches but all the anesthetic he needed was in the boisterous beers he drank that night. In full playing kit.
"Of course, Brando was going to play. He's one of those compulsive competitive people, intelligent too," Richards nodded.

"There was a training night on the back field at Easts late in the season when it was a miserable with the rain tumbling down. The boys still wanted to continue the session. We barely made a mistake. That's when I thought we're doing something right and got a bit of a feeling about where the season could head," Richards said.
Lachlan Walker did his shoulder in the last ruck of the grand final. He was helped off, had the shoulder put back in and was back out on the field to accept the cheers and back slaps of the Tiger Army descending from XXXX Hill.
What was achieved by the 2008 side has ramifications to this day.
"It was a turning point for the whole club and socially as well. There was a lot more confidence in the mindset around the Colts and seniors generally," Brandon said.

Richards agreed: "To win the 2008 grand final, that was a surreal moment. It's the stuff you dream of.

"It gave Easts some self-belief we'd be a successful club every year and we entered a pretty impressive phase of the club's history."

Bertini saw the broader picture too: "Just as I got taught about first grade and the approach you needed by Jade Ingham and David Jessiman, you try to do the same for the next generation. Lachie Walker, Brando and I definitely felt that in 2013 in the next premiership year when we were still around.

"Passing down the passion for the club to the next generation is really important."
EASTS 2008 PREMIERS: 15 Andrew Walker, 14 David Lucas, 13 Pale Toelupe, 12 Herman Porter, 11 Aidan Toua, 10 Matt Brandon, Curtis Franks, 8 David Jessiman, 7 Phil Braban, 6 Luke Bertini, 5 Lachlan Walker, 4 Adam Preocanin, 3 Pat Ritchie, 2 Jade Ingham (c), 1 Sam Cummins. Replacements: 16 James Charalambous, 17 Sio Kite, 18 Jack Turley, 19 Tom Simpson, 20 Dave Skelton, 21 Coen Ladewig, 22 Ben Spearitt. Coaches: Pat Richards, Andrew Scotney, David Hanham. Managers: Mark Kennedy, Peter Tracy, Cam Kilgour
EASTS 22 (D Lucas 2, H Porter tries; A Walker 2 conv, pen goal) d BROTHERS 21 (Damon Murphy, P Doneley tries; B McKibbin con, 3 pen goals)